New BroncBoost Booster pumping stations with flow rates from 1 to 750 GPM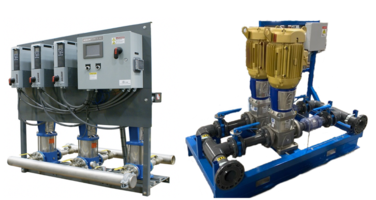 Summary of the press release:
Controls water flow rates and pressure for critical water distribution systems
Remote monitoring using smartphone and tablet interface systems available
Features pre-wired, piped and pressure tested to ensure proper operation
---
Original press release:
Progressive Water Treatment Today Launches "BroncBoost" ™, the Texas-Size Booster Pump Station for Commercial Water Systems
BroncBoost is a large-scale dewatering solution for crisis areas like Piney Point in Tampa Bay
Dallas, Texas – April 15, 2021 – OriginClear Inc. (OTC Pink: OCLN), The Water Company for the New Economy ™, today announced that its Progressive Water Treatment division is now shipping BroncBoost ™, its line of water station equipment. pumping. Designed and built in Texas, BroncBoost allows customers to control water flows and pressure for critical water distribution systems.
Reliable pumping
BroncBoost offers reliable pumping capacity and pressure control in an efficient package designed to meet the demanding needs of commercial end users, such as hotels and resorts, residential development projects, mixed-use commercial sites, institutional facilities, manufacturing, agriculture, and more. It offers standard and high volume pumping options for homeowners who require rugged on-site water supply solutions.
Consolidated Water Solutions of Nebraska is a trusted distribution partner who has deployed BroncBoost at a mine in the Pacific Northwest for on-site dewatering. "The dewatering project needed a reliable back-up pumping station to operate in a harsh environment. The BroncBoost provided reliable water pressure and steady power to the ultrafiltration and reverse osmosis systems to perform a safe and repeatable process, "said Jim Davis of Consolidated Water Solutions. "These installed units allow for the integration of additional pump skids in the event of future expansion to pressurize and improve flow rates."
Sophisticated machines
The Progressive Water Treatment factory tested booster assembly is a "Plug and Play" unit with the entire system pre-wired, wired and pressure tested to ensure proper operation when installed and commissioned on site. client. The BroncBoost BB-500M offers a powerful 200 GPM to 500 GPM kick in an attractively priced package. The complete product line offers five pumping capacities with flow rates ranging from 1 GPM to 750 GPM.
BroncBoost ™ Booster Pump Stations are a frame mounted booster pump system used to help undersized and chronic low pressure distribution systems achieve necessary flow and pressure conditions during periods of peak demand. .
While BroncBoost in its standard form is exceptional value, there are options available for customers needing a more advanced booster station. Epoxy coated steel frame systems, 304 and 316 stainless steel tubing, and NEMA 4X stainless steel electrical control boxes provide increased corrosion resistance.
Through the integration of digital pressure and flow sensors combined with Programmable Logic Controllers (PLCs), operators can easily track, monitor and optimize their entire pumping process. Remote monitoring using interface systems for smartphones and tablets is also available.
Versatility
"The BroncBoost is an extremely versatile piece of equipment and an essential component for systems such as a dewatering solution where consistent and reliable flow and pressure criteria are absolutely critical to success," said Dan Early, CTO of OriginClear. "Systems like this are being used for scenarios like or might even be part of what's needed to help clean up and treat the water near Tampa at Piney Point."
For more information on BroncBoost ™, please follow www.progressivewater.com/broncboost
Progressive Water Treatment, Inc. – a division of OriginClearTech.
Progressive Water Treatment, Inc. designs and manufactures water treatment systems for municipal, industrial and pure water applications. The company uses a wide range of technologies including chemical injection, media filters, membrane, ion exchange and SCADA (supervisory control and data acquisition) technology in turnkey systems.
Progressive Water Treatment offers a wide range of services, including maintenance contracts, renovations and replacement assistance. In addition, PWT rents equipment under variable-term contracts. Customers are primarily served in the United States and Canada, with the company's reach spanning the globe from Japan to Argentina to the Middle East.
Progressive Water Treatment focuses on the energy, industrial, municipal and ultrapure water markets. He is a key solution creator within the OriginClear Tech group of brands providing cutting-edge technologies to solve today's toughest challenges.
Progressive Water Treatment, Inc. is a division of OriginClear Tech and celebrates 25 years in business and maintains manufacturing facilities near Dallas, Texas. For more information, visit the company's website: www.progressivewater.com
Contact this company
More Communication Systems and Equipment